Introduction
DSP Proctoring provides services to students who have met with a Disability Specialist and have provided documentation that supports the need for exam-related accommodations.  Once students have sent their Letter of Accommodation to their Professor and the Professor has submitted the Alternative Testing Agreement with DPS Proctoring, students are required to submit their own Exam Request through the DSP Student Portal.
REQUESTS MUST BE SUBMITTED NO LATER THAN... 
5 BUSINESS DAYS PRIOR TO THE DATE OF YOUR REGULAR-SEMESTER EXAMS
10 BUSINESS DAYS PRIOR TO THE DATE OF YOUR FINAL
NOTE: Please check with your instructor before you attempt to submit an exam request to make sure that they have submitted the Testing Agreement. Your instructor may have made alternative arrangements to provide accommodations within their department.
Students must arrive on time for their scheduled exams. No additional time will be granted if they are late. If they arrive more than 30 minutes late they may not be allowed to take the exam. We will attempt to contact the professor for approval to start a late exam but no additional time will be granted.
Students are required to bring all exam-related materials with them to the exam location (i.e. scantron, blue books, extra pencils/pens, etc.). These items are not available at the testing locations.
All students taking exams with DSP Proctoring will be held to the same standard as all students as outlined in the
BERKELEY CAMPUS CODE OF STUDENT CONDUCT and the
ACADEMIC HONOR CODE, which includes the following:
"As a member of the UC Berkeley community, I act with honesty, integrity, and respect for others."
Logging into your Student Portal and Requesting Exams

1. Log into your DSP Student Portal using your CalNet ID and passphrase.
2.  Click on the Proctoring link under My Accommodations.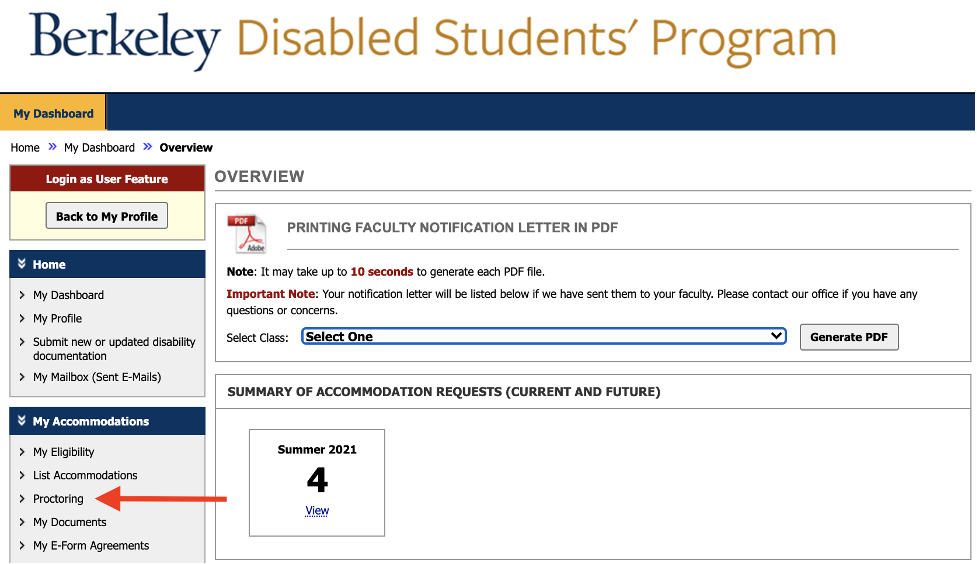 3. Under the Alternative Testing Agreement section, select the class in which you would like to schedule an exam from the drop-down menu and click on the Schedule an Exam button. If the Professor has already submitted an Alternative Testing Agreement, the course will be listed in the drop-down menu. If you do not see your course, please contact your Professor.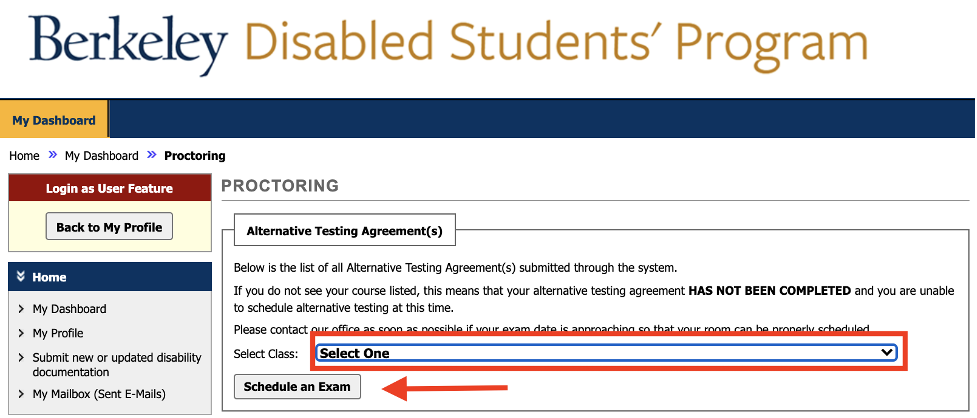 4. Please read all Terms and Conditions. Scroll down to the Exam Detail section. Select the Request Type (Quiz, Midterm, Final), Date, Time, and select only the accommodations that you will need for this exam. (For example, if you have an accommodation for Use of a Computer and you are taking an exam that does not require on, do not check the box for Use of a Computer.)
Select all Terms and Conditions if you have read and agree to the listed terms. Then select the Add Exam Request button.
Repeat this process for all of the exams in this course this semester. Exams begin at the precise time requested. "Berkeley time" does not apply.
Note: You will receive an email when your exam request has been approved. Exam location will be posted on AIM two business days before the exam date. 
Checking the Status of Your Proctoring Request
Click on the Proctoring link under My Accommodations. 

Find the exam details listed under UPCOMING EXAM REQUEST(S) FOR THE CURRENT TERM.

Review all details are accurate and check the Status and Location of the request.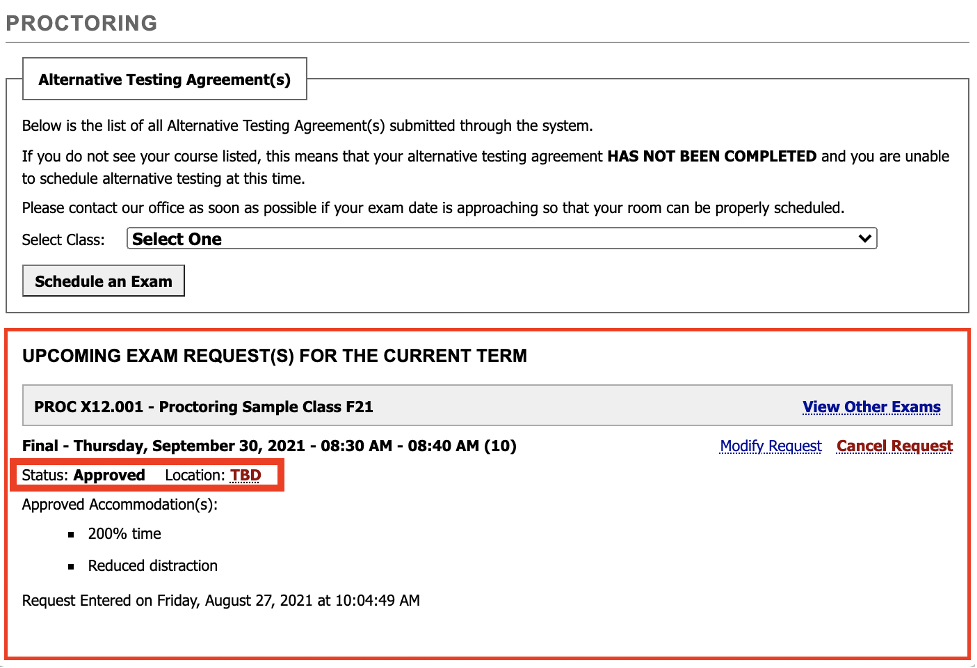 Please review Exam Proctoring Student FAQs for additional information.
If you have any difficulty with these steps or have further questions, please email us at proctoring@berkeley.edu