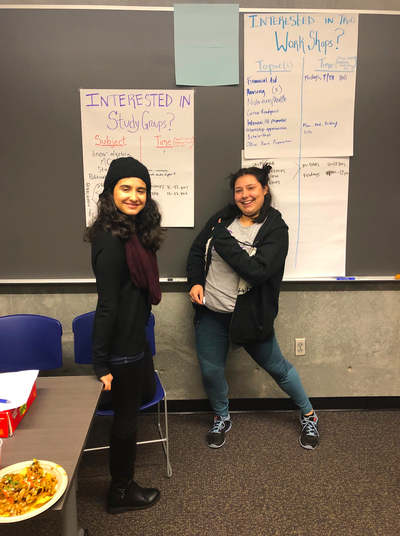 Here are a few comments from current and past students about their experiences participating in our UC Berkeley CAL TRiO DSP SSS program:
The Cal TRiO DSP SSS program is here for you. I am so excited to be able to go to an office and speak with staff members that understand what I am going through. They not only listen to me, but they care about my total well being. They have created a designated study space for the like-minded students so we all can flourish together. Most importantly, they provide you with the necessary tools to allow you to achieve your most incredible goals. And they never let you forget how special you are.
-- Violet/Class of 2022/African American Studies and Conservation Resources Studies/Ronald E. McNair Scholar; Regents and Chancellor's Scholar
I am so thankful for the guidance I have received from TRiO Academic Advisors! They have empowered me through advising and helped me find clarity to pursue my own undergraduate research and to achieve my graduate school goals.
-- Janae/Class of 2022/Public Health NavCal Scholar ▪︎ Nav2Cal Lead Researcher & Creator/Director Cal-ADAR Scholar ▪︎ Cal-IHEA Scholar ▪︎
I would not have believed I had the capability of continuing my college education without the support that the Coordinator/Advisor for TRiO brought to my life. Since then, meeting with my TRiO team has only provided me with clarity and strength. Any time I made use of their advice and workshops or visited the TRiO center, I learned something new about myself and met incredible people. Throughout my time participating in the TRiO program, my grades and relationships have improved and stabilized, and I have nothing but gratitude for the love and community it has given me on campus.
-- Daniel/Class of 2022/Nuclear Engineer
I am extremely grateful for the support I received from TRiO. I've never worked with a study buddy before and the TRiO department matched me with a student in my class. We were only supposed to study for our Mid-term but ended up working together for the duration of the semester. This community has provided me with the confidence and support to be successful in my endeavors.
-- Prentiss/Class of 2021/Sociology NavCal Fellowship, USI, BMC
The TRiO program has been an incredible resource throughout my time at Cal. The staff has gone above and beyond to help and make sure I have the resources I need to be successful. My Berkeley experience has been a lot better as a result of TRiO and I don't know what I would do without it.
-- Anonymous Class of 2021, Computer Science major UC Berkeley Regents' and Chancellor's Scholar Computer Science and Dance & Performance Studies
TRiO DSP SSS program really came through for me at the time of need before and during the shelter in place. Thank you so much for all your help!
--Marvin/Class of 2021/Molecular and Cell Biology Scholar ▪︎ Integrative Biology Scholar/NavCal Scholar
I enjoyed how TRiO's Peer Leader's with diverse backgrounds helped in making my transition to Cal as a Transfer Student feel welcoming. I was able to take part in a small, accepting community with support when I needed it. I also particularly enjoyed the workshops and other special events that taught me new skills for helping me succeed and to have fun. The TRiO Staff are fantastic and always willing to help in any way they can. If it weren't for the Peer Leaders, I would not have fully utilized all the services available to me, such as the Health Opportunity Fund given to DSP students. Thanks, TRiO!
--Justin/Class of 2021/Urban Studies
From the moment I was accepted at UC Berkeley, I reached out to TRiO for questions ranging from housing, course selection, reduced study load, and accommodations. Supportive TRiO Academic Coaches and staff are always readily available to lend a helping hand, allowing me to have the peace of mind needed to concentrate on my schooling. TRiO plays a very defining role in my academic pursuit here at UC Berkeley, TRiO is the belief and support system I rely on as I move on with my academic success.
--Luisa/Class of 2021/Ethnic Studies major/McNair Scholar 2020.